---
"Poppy Bank Epicenter is North Bay's largest all-in-one destination for sports, fitness and entertainment. With 130,000 square feet of fun, Epicenter is packed with a unique mix of attractions for the whole family."

---
ATTENTION:
World Cup Watch Parties

Victory House will be showing EVERY World Cup match on our big screens! Their full bar and a special brunch menu will be available for all games. Piner & Coffey will also be available for your coffee and hot beverage needs!

---
Parking Pro Tips
As we get into our busier time of the year, there will be occasions where our parking lot gets really crowded.Here are our "pro tips" for finding a great parking spot.
First, most people still don't realize that the parking spaces nearest to the Piner & Coffey intersection (see the northernmost yellow highlighted area below) are our parking spaces. If you're coming in from Coffey, take the first right, and then another right, and then take the ramp up into these parking spots.
If that "upper parking" area is full, we have secured overflow parking a short walk down the street at Battery Systems (see southernmost yellow area below). These spots are available for all Poppy Bank Epicenter customers and will keep you from a potentially frustrating crawl of our main parking lot.
And remember, you can always drop off your party (assuming it includes at least one adult) right at the front door using our drop off zone, and then go find parking without the anxiety of the entire family pestering you. Yeah, we've been there too.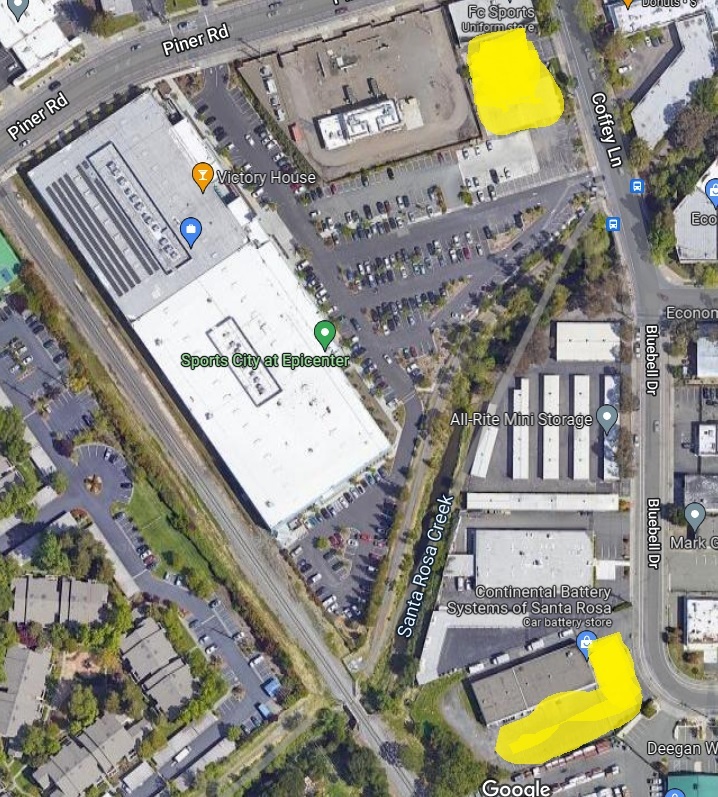 ---
---
---
Families play here
Families who play together, stay together.
With 130,000 square feet of awesome attractions, there is activities and attractions for the whole family! Lace up your bowling shoes, throw an axe, or play pool in Chuck's. Explore our Game-On Arcade and try out our Delta Strike Laser Tag, Omni Virtual Reality, and XD Dark Ride! Grab something to eat and drink from our Victory House Restaurant and Sports Bar, or our Piner & Coffey Cafe! Our Rockin' Jump Trampoline Park is designed to tire out the most energetic of children!
Arcade Games
Deals
Book a party
---
---