North Coast Comedy Enter to win 2 free tickets!
Step 1:

Join our email list!
Epicenter Sports and Entertainment
Stay up to date with everything we have to offer!
---
---

Tag your friends!

Tag your friends on our Instagram post! One tag equals one entry. You are allowed a maximum of 3 tags/entries. Who would you bring with you if you won?
Terms & Conditions:
*Must be 21 years or older to enter.
*One tag equals one entry. Three entries max.
*Only one winner will be selected.
*Giveaway will run until 11:59PM Sunday, January 9th
*Winners will be announced on Instagram Monday, January 10th

(This giveaway is not endorsed by, sponsored by, or affiliated with Instagram.)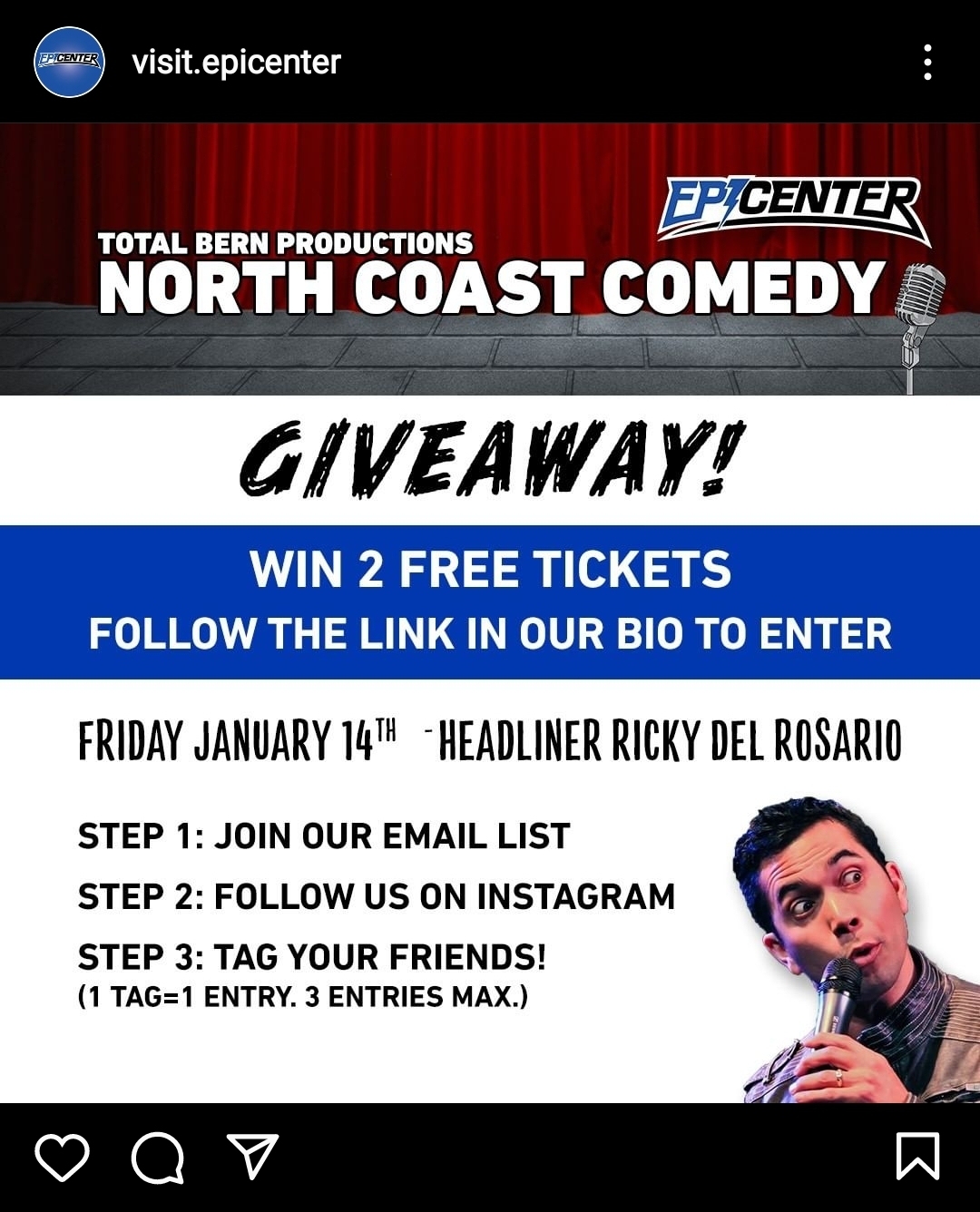 ---
Late night comedy continues at Sonoma County's only late night venue!

Enjoy a belly full of beer and laughs inside the Victory House! We are excited to start the year off with a BANG after many SOLD OUT shows in 2021! Due to high demand, we recommend purchasing tickets ahead of time. Enjoy an intimate indoor seated setting with table service through our Order and Pay QR codes. Just kick back and enjoy the show! We have incredible line-ups you don't want to miss out on.
Doors open at 9:30PM for a late-night menu and drinks. Show starts at 10:30PM. No entry after 10:30PM
21+ Event. ID's Required. No In-and-Outs.
---
Friday, January 14th
Headliner Ricky Del Rosario- Physical comedian, Ricky Del Rosario, is a master at finding the funny in personal situations and unique characters: creating a dynamic, non-stop set for his audiences. A Santa Rosa resident, Ricky was once voted by HBO as one of the top ten up-and-coming comedians in the United States. He has made several nationally-televised stand-up appearances including: Comic View, HBO, STARZ, the first Laffapoluza, the Kevin Nealon Show and Laff Tracks on TruTV. He also had a popular YouTube series called "News Infused" and has been featured in many national TV commercials.
Featuring Butch Escobar- Escobar's furious rants have become his trademark at such clubs as the San Jose Improv, Cobb's and the SF and Sacramento Punchline. Butch has toured all over the country with legendary performers including Tom Green, Doug Stanhope and Last Comic Standing Felipe Esparza. He frequents southern California and is a regular fixture at the Hollywood Improv and the world famous Comedy Store on Sunset. A humanitarian at heart, Butch has also travelled the world performing for the troops. Actor/performer/writer Butch is a triple threat that you will immediately become a fan of.
With Pete Ballmer- Originally from Seattle, Pete Ballmer is a stand up comedian who's fast paced, goofy, and upbeat style makes him a regular at showcases across the Bay Area. Pete has been featured at SF Sketchfest, the SF International Comedy Competition, and the Motor City Comedy Festival. Pete is also a producer for Don't Tell Comedy in San Francisco and has a podcast called Bad Products.
Hosted by Julie Ash- Julie's comedic style is edgy and derisive, yet charming and relatable. Her favorite topics include dudes in their twenties, Bay Area tech startups, and dudes in their twenties who work for those startups. She has performed at SF Sketchfest, the Stand in NYC, and placed 6th overall in the 2018 SF International Comedy Competition.
Produced by DJ Bern Man and Total Bern Productions
Buy Tickets
Policies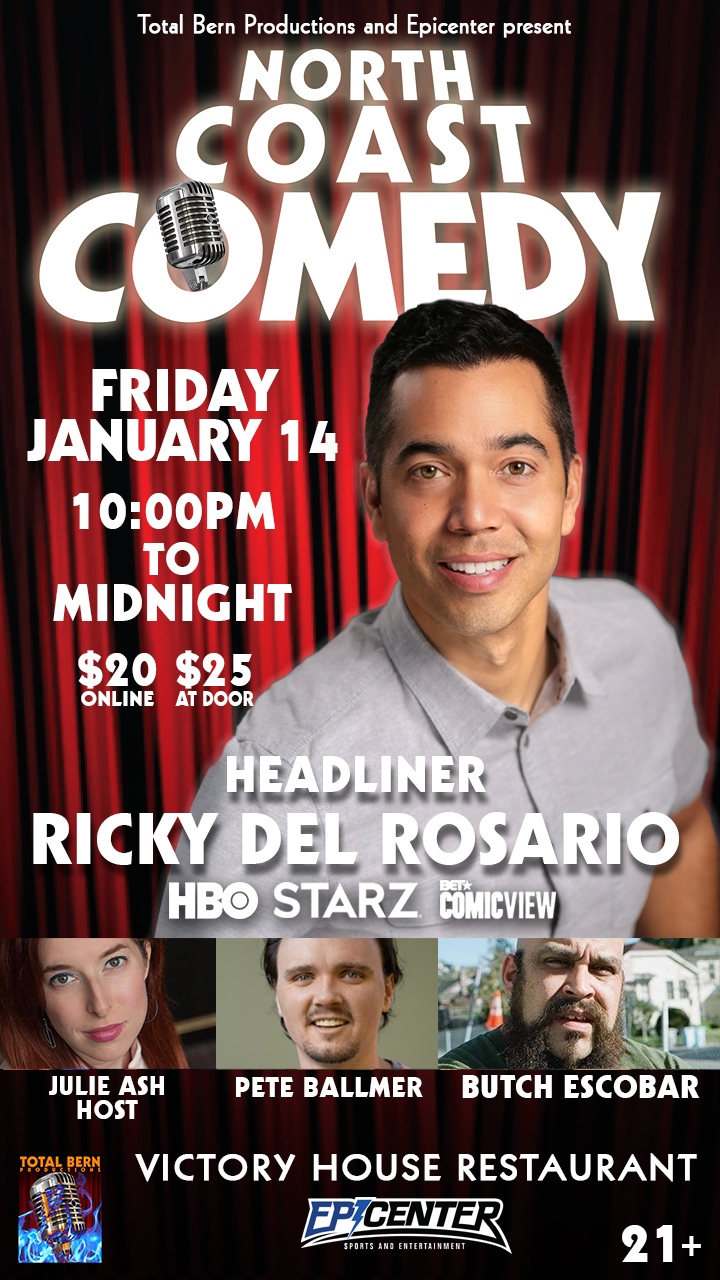 ---
Saturday, January 29th
Headliner Ngaio Bealum- Ngaio Bealum uses his great storytelling ability, razor sharp wit and engaging stage presence to leave audiences howling with laughter. He has earned a 5 star rating on Ticketmaster.com and has appeared on ABC, MTV, BET, Comedy Central, and many other television programs. He has opened for Dave Chappelle and Weird Al (but not at the same time), and is also a regular guest on The Doug Benson Podcasts. He can currently be seen on Netflix as the co-host of the hit show "Cooking on High" Ngaio is constantly on the road, and has headlined comedy clubs and performed at music and arts festivals all over the country. the dank Diplomat has been a road comic and a cannabis activist for a long time.
Featuring Ellis Rodriguez- Ellis Rodriguez is the 2017 San Francisco Comedy Competition winner and is hot as it gets in the comedy scene. Born in Boston, MA and raised in Stockton, CA… A United States Marine with a WebMD diagnosed classic case of middle kid syndrome, he's the funniest of 9 children raised by immigrant parents from Panama. It's complicated. And now Ellis has become one of the the best Stand Ups on the scene today, becoming a veteran of the NorCal comedy scene especially. His energy and charisma have made him a regular headliner at The Improv, Laugh's Unlimited, Punchline, and Tommy T's to name a few. He's also performed on the Shaq's All Star Comedy Jam, and Laugh's on FOX. He's been a finalist at the Las Vegas World Series of Comedy, NBC's Stand up for Diversity, & Comedy Central's UP NEXT. Most recently Ellis made his television debut when he was featured on Kevin Hart's new Comedy Central show 'Hart of The City'. He is the reigning Champ of the San Francisco Comedy Competition, and the San Diego Comedy Festival. Ellis Rodriguez is coming to a club near you! Don't miss your chance to laugh when Ellis Rodriguez comes to your city!
With Aurora Singh- Some call her a rare breed, I would agree- Aurora Singh blessed her immigrant parents with her arrival into the world in January 1992 and continuously doused her sparkle upon the world as she grew up in Sacramento, California in the good ol' Catholic school system. You won't regret the deep belly laughs you experience as a result of her hilarious straight forward real comedy. Seven years of comedy on her belt performing with great names like Kabir Singh (Kabeezy), Joey Diaz, Steve Simone, Taylor Tomlinson, and Felipe Esparza! Her mom has even been quoted saying, "she's hilarious!" Ready to ride the giggle train? You won't be disappointed!Hosted by Chris Fernandinson- Santa Rosa's own funny guy wil guide us through the evening
Hosted by Chris Ferdinanson
Produced by DJ Bern Man and Total Bern Productions
Buy Tickets
Policies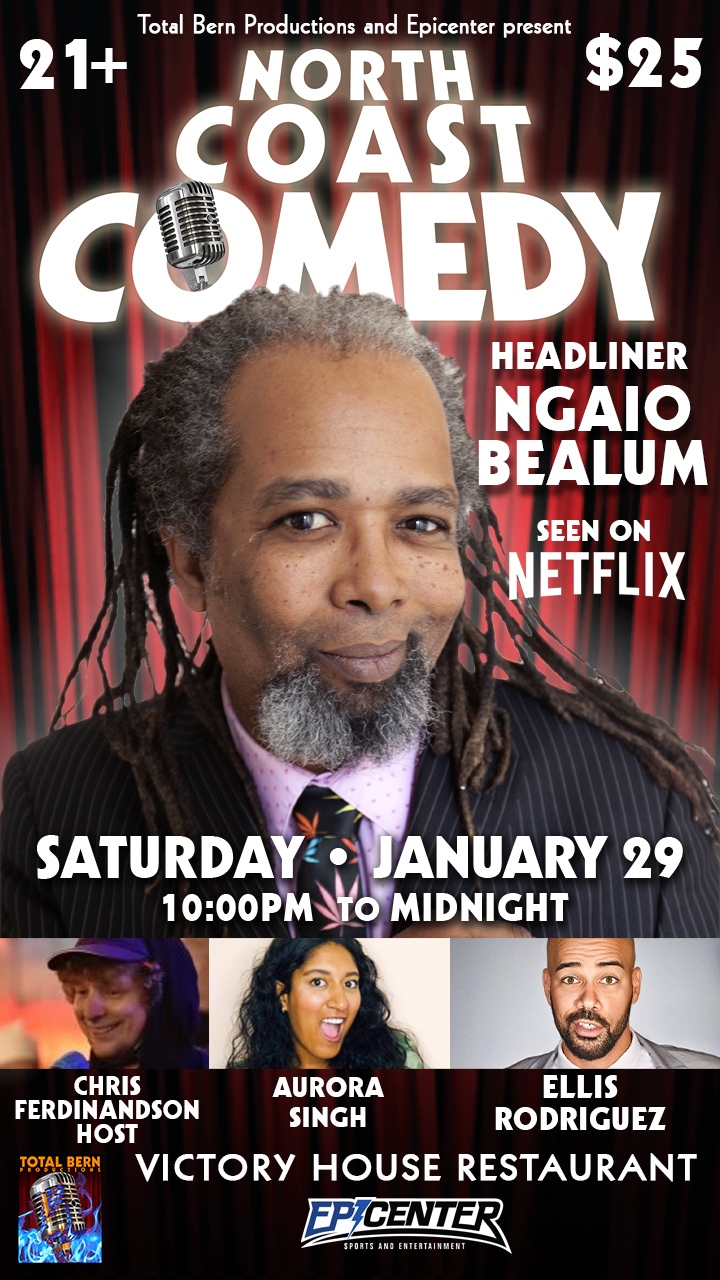 ---